Moderators: Omphalos, Freakzilla, ᴶᵛᵀᴬ
Icelandic Wiener
Posts: 3294
Joined: 10 Feb 2008 16:27
Graphics for lines to other films can be seen here:
http://scifiwire.com/2010/05/5-famous-s ... o.php#more
"
If he was here to discuss Dune, he sure as hell picked a dumb way to do it.
" -Omphalos

Happy Memorial Day everyone! -James C. Harwood
"Three of my videos have over 100 views."
"Over 500 views for my 'Open Question' video." -Nebiros
---
Watermaster
Posts: 6163
Joined: 05 Oct 2008 16:14
Location: In the back of your mind. Always.
Contact:
like it - might make a good avatar, if it can be read
................ I exist only to amuse myself ................
I personally feel that this message board, Jacurutu, is full of hateful folks who don't know
how to fully interact with people. ~ "Spice Grandson" (Bryon Merrit) 08 June 2008

---
Joseph-Vintimille Tariki Askaris
Posts: 309
Joined: 11 Mar 2009 10:54
Location: Dune Jacurutu Ф TΛU
Contact:
---
Posts: 5784
Joined: 28 Jul 2009 08:33
SandRider wrote:like it - might make a good avatar, if it can be read
as it stands and reduced to the 180*180 max size it is not readable,
but the concept could be used in a different way.
Spice is the worm's gonads.
---
Posts: 1991
Joined: 25 May 2008 14:14
Location: Cool Britannia
Contact:
Mr Crop is your friend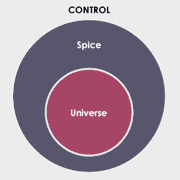 If anyone wants it.
---
---