Omphalos wrote:Anyway, we are all creatures of GOD.

It's that type of left-wing, bleeding heart philosophy that has created the devolved society we live in today. Anything goes - sex before marriage, sex without conception, sex inside the anus, and a complete disregard for the proper usage of grammar.
To believe that "we are all creatures of God" is to deny the existence of the devil...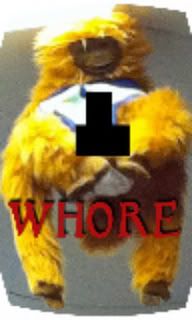 One day, Omphalos, the orangutan will come to your doorstep, and you will think it's okay to love inside it (probably inside the anus because of the tightness), and you will be bitten. Do you think your permissive, liberal attitude will protect you? Do you think the devil will let you off the hook?"
If the red headed orangutan is a child of God, then I declare that I am no son of God. If you, Omphalos, are a child of the same God as the orangutan, I say to you, "Your brother bit my dad after he tried to have sex inside your brother."